Last Friday the first BVMW event which was hosted by 3DQR took place in our premises at Hasselbachplatz in Magdeburg. After a first acquaintance and an introduction by BVMW leader of the district association and speaker for the state politics Saxony-Anhalt, Peter Martini, our CEO Daniel Anderson welcomed the approx. 20 participants in the course of a small opening speech.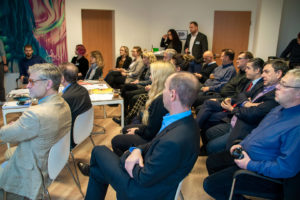 After Daniel Anderson's introduction, in which he reported about his career and the history of 3DQR, Maximilian Unbescheidt took over the lead of the event and presented the basic business model of our company.
After this lecture, the group divided into two subunits of extremely interested businessmen in order to experience the adventure of the extended reality and especially the AR even more intensively. Thus, one group was first given the opportunity to test virtual reality glasses directly with our developers on site. In addition, there was great enthusiasm for our augmented reality app and the 3D models to be created with this app.
Especially the simple usage on their own smartphones met with great sympathy from all guests. While one group was the first to experience these practical experiences with our new technology, the other group of visitors got open questions about the concept answered.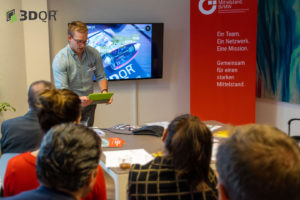 In addition this section of the common morning offered the opportunity for our guests to brainstorm together with our employees about new business ideas for the own company.
After each group had gone through both stations, there was a pleasant networking before the small group of new AR fans slowly but surely said goodbye to start into the weekend.
In summary we are very satisfied with the general course of our first AR brunch and would be very happy if such an event would be repeated in our offices soon.