In our economy today, in which the marketing and sales teams of the consumer industries are constantly fighting to gain the attention of their customers, it is also necessity for each company to stand out from the competition. This can be achieved with an extraordinary and enticing advertising presence. At 3DQR we call it the "WOW" factor. However, as ordinary consumers are overwhelmed with thousands of different stimuli every day, to spark interest is becoming more and more challenging. Our company 3DQR is facing this challenge by delivering a revolutionary way of interactive promotion to its partners.
Using innovative AR scenes within your marketing campaign can be a groundbreaking way to attract the consumers attention. Our easy to use approach at 3DQR makes AR accessible for everyone, regardless of your individual level of technological ability. You only need a smartphone or a tablet on which the corresponding app is installed. This creative concept of attracting new customers is an additional factor that makes consumers wake up and take notice. 
In one of our recently recognized projects we helped "Karamalz", a brand of the Mannheimer Eichbaum brewery, with the promotional campaign for their flagship beverage. The traditional brewery is already producing diverse malt drinks since 1679 and is actually generating an estimated turnover of 55 mill. euro. The company has now set itself the goal to address young consumers in particular. This is why Eichbaum has recently launched a major advertising campaign for its famous beverage Karamalz.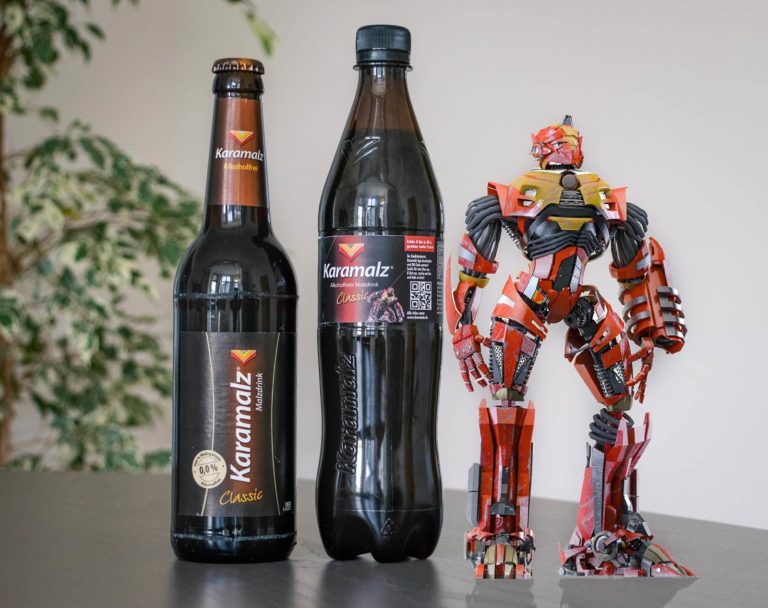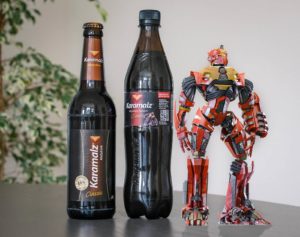 In course of this campaign enthusiastic young consumers can come up with a biography for five newly created superheroes in a specially created world. At the end of the campaign, the fan who came up with the best and most creative story for the heroes Skyros, Karocho, K-Bot, Lucy and Junior in their world Karacity will have the chance to win great prizes.
In order to push the whole campaign even more and to give it even higher public attention, Karamalz also came up with a special feature for one of the superheroes. Therefore the beverage manufacturer contacted our company 3DQR. The plan was not only to present the specially created AR superhero robot K-Bot on paper or in simple video clips, but also to give it an interactive dimension.
3DQR was therefore asked to develop an app and an user interface for the 3D model of the animation hero, so that the cool moves of the 3D-K-Bot could be shown on the consumer's smartphone. For our experienced 3D-Artist team, the task was of course only a small challenge, so that the project was completed within a few weeks.
Since October 2019, every bottle of Karamalz is imprinted with a QR-code that allows you to admire the red human-like machine in its fascinating AR dimension. An AR superhero was born. In the future, users will be able to let the K-Bot do hip gestures so that he can, for example shape a heart with his hands or point his thumbs up and down. 
Click the link and watch the superhero do his thing: https://www.toggo.de/gewinnen/karamalz/index-2964.htm
This campaign is only one of the numerous possibilities 3DQR can provide incredible new marketing concepts for the consumer industry. Also many other essential departments such as service, selling or trainings can be much more efficient with our technology. 
Contact us today and find out how we can help you achieve new forms of wow factor marketing with AR.