Augmented reality makes IoT data visible for end-users and enables them to control these systems through easier means. The Internet of Things (IoT) refers to the ability machines and devices have to communicate with each other. From smart homes to fully networked enterprises to simple end devices with internet connectivity, all IoT applications are connected via invisible data streams.
What is Augmented Reality?
AR describes the enhancement of reality with digital content. Mobile devices such as smartphones, tablets or AR glasses are used to enrich and overlay the environment with 3D content, images, videos or sounds. The big difference to virtual reality is that reality remains visible and is only augmented, hence the name. While VR software tries to mask the real world and its stimuli as best as possible, AR integrates virtual elements into the live environment so that there is a seamless transition between reality and virtuality.
The Internet of Things
In companies with a heavy use of IoT technology, a central component is the ability of devices to communicate in real time on a digital platform. This increases the complexity of systems while production becomes more efficient, with less administrative effort. Simple examples of IoT systems are smart devices at home, like a refrigerator that tracks its contents and sends the data to a cell phone, thus directly generating a shopping list. Another example is a washing machine, which measures how much detergent is needed depending on the load quantity and sends a push message for shopping when the fill level is low.
In industrial applications, smart solutions tend to be more complicated, since machine operation depends on multiple inputs, settings and environmental factors. Furthermore, in automated systems, one device can signal directly to another that an input or action is needed – all in real-time.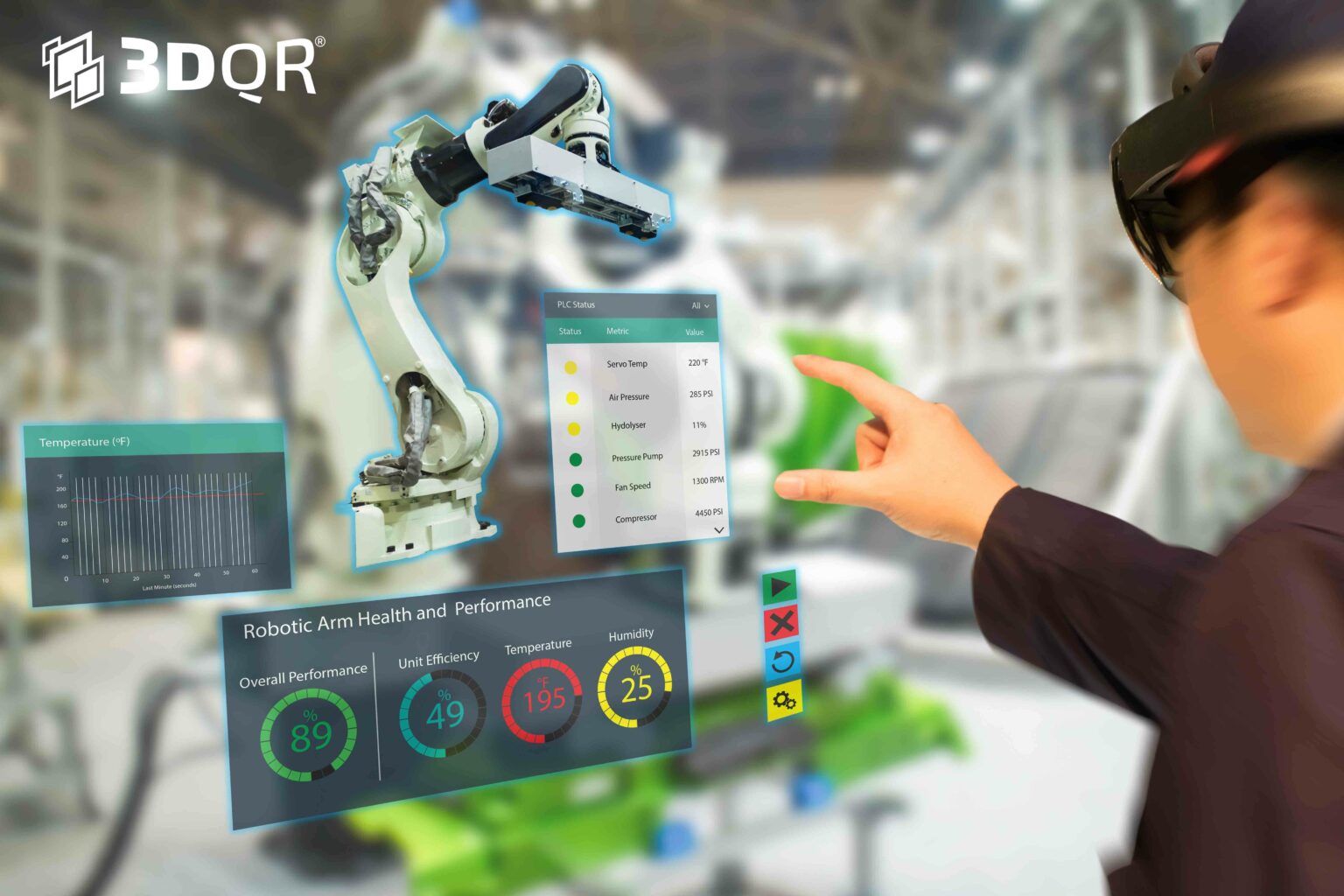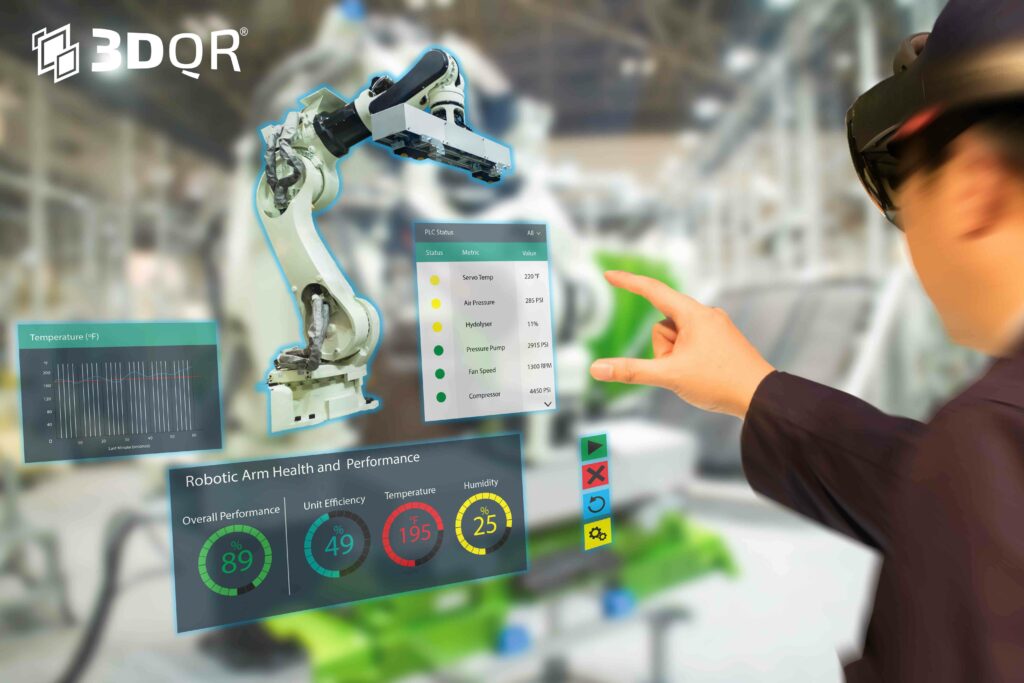 What is the benefit of augmented reality?
AR brings various added values to the industry. The most prominent advantage of AR technology over VR is that the environment is still perceivable. As a result, the user is not encapsulated in a virtual substitute reality, but can access all digital information directly at the machines and systems concerned. In doing so, the user can still react to events from reality, which is a requirement for safety, especially in an industrial context. 
Generally speaking, the use of augmented reality holds various advantages in industry. Factory planning can be made more efficient through AR, since the different components can be prearranged virtually. Maintenance and service can also be stream-lined through AR instructions, resulting in faster repair times and a shortened downtime. Augmented reality also offers great potential in training new technicians and retaining the expertise of experienced employees.
In IoT systems, augmented reality helps keeping track of increasingly complex devices and machine communications. With the use of smart equipment, various machine parameters and settings can be changed digitally. This would normally take place via a central computer in the company's office. With AR, settings can be accessed directly at the machine and viewed and changed in augmented reality. Not only does this mean that processes are handled immediately, but information can be displayed more clearly, which helps prevent errors. With increasingly complex systems, such as the ones implemented in automated factories, it is essential to structure and clearly display digital processes in order to leave humans at the top of the decision-making pyramid.
Examples of Augmented Reality IoT Projects
Augmented reality applications for IoT technology should be aligned with existing processes of monitoring and control – both in the private sector and in industrial companies.
In the private sector a good example are smart home solutions. Here, for example, control modules for the room temperature don't have to be installed as a physical component. Instead, the room temperature is displayed via an interactive AR scene, which can be accessed from anywhere and not only serves to check the temperature, but lets the user make adjustments directly. Such a solution could then be used to check and control other settings as well, such as the brightness of lights or even the alarm system. 
In an industrial context, the same concept finds its use but has to be scaled to industrial dimensions. While it is sufficient for the private sector to be able to change a few settings for a small number of components, production machines usually have a larger number of settings and states that need to be kept track of. Typically these consist of the filling level of source materials, machine temperature, production speed and other metrics specific to the manufactured product. Of course, there are numerous other pieces of data which are important to check and adjust if necessary. 
In companies with such complex IoT systems, conventional visualization quickly reaches its limits in terms of clarity and thus increases the risk of critical errors in operation by making it harder for the operator to interpret the data correctly. This extends to repair and service as well. Furthermore, errors are often noticed during machine operation, whereas the technicians use a central control unit to resolve those issues. With AR visualizations, adjustments and checks can take place directly at the machine by the operators themselves. In addition, necessary data can be displayed exactly where it comes into being, making it quick and intuitive to retrieve. This not only ensures a higher level of production safety, but also creates a more efficient working environment for all parties involved. 
AR Solutions from 3DQR
With our 3DQR software, you can create your own augmented reality content quickly and easily. We provide you with a platform that allows you to intuitively convert all data formats into AR scenes and then view them using the 3DQR Plus app. The unique in-app creator even allows you to create, edit and manage augmented reality scenes from your mobile device. This is our service to you.
Contact us to learn more about our AR solutions, or read our blog post on how to optimize service and maintenance with augmented reality.